Group accommodation 
&

more

Nestling in the heart of the Purmerpolder in Noord-Holland is the Leeuwendaal group accommodation. This traditional 'stolp' farmhouse in the rural district of Edam-Volendam has 10 guest rooms with a total of 29 beds, a large and pleasant open-plan kitchen/dining room with all cooking facilities, refectory-style tables and an attractive sitting area, and a spacious recreation room.

Leeuwendaal is your home from home, where your group can relax and enjoy each other's company. In principle your stay is entirely on a self-catering basis, but breakfast, a packed lunch or dinner can be arranged in consultation with your host and hostess. You can order bread or have meat delivered to cook on the barbecue which is available for your use.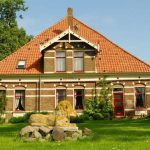 "Leeuwendaal is your home away from home, where you can relax and enjoy the surrounding"
Gerwin & Karina Oortwijn
Vriendengroep Duyenvoorde
Aug 2, 2017
Aanrader
Mooie authentieke boerderij met voldoende slaapvertrekken en zelfs een enkele bedstee voor de liefhebber. Veel speelruimte voor kinderen binnen en ook buiten mooie ruimtes, o.a. om te zitten aan het water en veel spel- en watersport mogelijkheden. Vooral in de lente en zomer een prima accommodatie voor een groep! Daarnaast bed-, bad- en keukenlinnen...
Aug 2, 2017
Top Weekend
Erg vriendelijke ontvangst bij de familie de Gier. Grote slaapkamers, zelfs nog een paar bedstedes. Makkelijke lokatie om activiteiten te plannen in Edam/Volendam en Monnickendam. Ontbijt geregeld via Fam. de Gier. Was ruim voldoende en lekker. Ruime keuken om voor 28 man te koken. We hebben gewoon een top weekend gehad!